Mixed Media
Art works that are not pure paintings, prints or sculpture.
Mixed media is very common in the current 9 x 12 inch shadow box/deep panel work series.
Factory End Elevation
Ink and pencil drawing of end elevation of factory drawn negative for positive image on photographic film negative.
Factory End Inverted in Photoshop
Approximation of negative manipulated in Photoshop.
Factory Front Elevation
Ink and pencil elevation drawn negative to make a positive image with a film negative.
Factory Front Inverted in Photoshop
Photoshop approximation of film negative.
First Funnel Painting
This was done during a 2007 sabbatical while working at an Oregon coast house a friend gave me for 3 months. It was made out of canvas board, basswood and gelled and gessoed canvas. Watercolor was "flowed" through the chambers. This piece was a break from years of predominately figurative work.
Paper Funnel Box
24 x 16 x 4 inches. Part of a larger series of "flow" boxes this piece is about to accept liquids for flow, but will be kept in it's pure framework state as a finished piece. Poplar, watercolor paper, recycled paper, brads plywood back, glue.
Acrylic Sheet Arch Concept
Model parts from a series of architectural presentaions for an existing lab building (gessoed wood) and scored, sanded and adhered plexi inserts for new buildings. thick 6 x 6 inch steel base. Buildings have magnet sheets adhered to bases of buildings to move and stay in place on steel base.
Green Resin
Part of a 9 x 12 inch series. Gessoed wood, cone shaped holes in top of frame, green pigmented resin.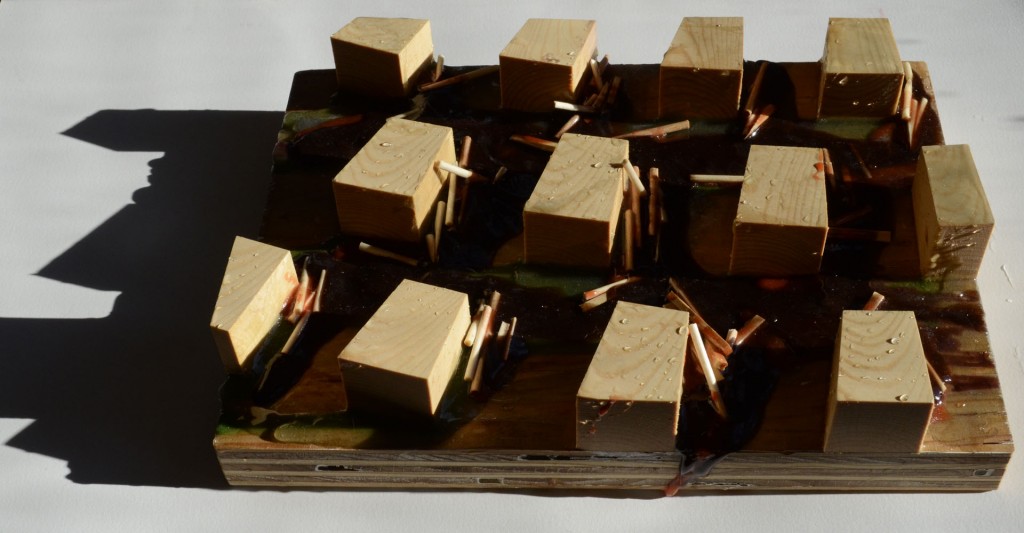 Resin Flood with Debris
Part of a 9 x 12 inch series. Analogy to a mud flow viewed near the Columbia travelling to Astoria on Hiway 30. Pine "houses", several pigmented epoxy "flows" with embedded dowels (logs? debris?).
Houses in Holes
Part of 9 x 12 panel series - Thick plywood base with 1.125" dia. holes filled with dark cedar houses, basswood diverters, gesso and pencil.
Factories in Holes
SOLD - Part of a 9 x 12 inch series. Gessoed wood, 1.125" holes, sawn and laminated baltic birch ply sanded to shape, factories glued to sloped disks in holes, pencil. Basswood "roads /paths" will be added.